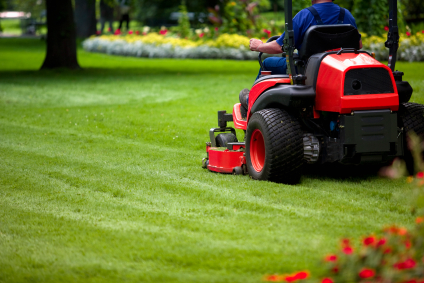 Standard lawn servicing consists of;
Lawn Mowing: We use a variety of Zero turn radius commercial mowers to insure an perfectly level, beautiful cut throughout your entire lawn. Our lawn care team has more than 40 years combined experience and pride themselves in the thorough, tireless work ethic they promote.
Edging curbs and beds: Edging has an important role in the beauty of any well kept lawn, whether you prefer to utilize our edging services or not they will always be at your disposal.
Weed eating: After mowing your lawn, our team will circle the entire property with weed eaters removing weeds, patches of grass in areas too narrow for mowing and looking for anything else that needs attending.
Leaf & debris blowing: The final step of our standard lawn servicing is to again circle the entire property for one final look, as well as to blow all the debris, grass clipping and leafs that where left out of place during the cut. We blow off driveways, walkways, garden beds, back porches and anything else that might require it.
Standard lawn servicing can be requested as part of a service package or standalone, if you choose to opt for a package you will be required to pay monthly for all services performed. You may decide you would only like lawn care performed and pay by the cut or monthly, whichever you choose.
The service packages listed on the services page are only for convenience, you may pick and choose any services you like and form a lawn maintenance plan specific to your needs. You may also request any services for one time jobs without any obligation for the future.
Pricing for standard lawn care will vary dramatically between properties, for more information in order to better determine what your price will be you can look at our average pricing page and determine for yourself, or you can request a quote from us.